Yevhen Sverstiuk
12 November 2021
Sverstiuk Yevhen Oleksandrovych (b. 13 December 1927, Siltse village in Horokhiv district, Volyn region – d. 1 December 2014, Kyiv).
Ukrainian dissident, literary critic, publicist, one of the most prominent dissident movement representatives.
Having been formed as a personality during the Khrushchev Thaw, Yevhen Sverstiuk joined the dissident movement in late 1950s. An important milestone was the establishment of the Kyiv Club of Creative Youth in 1960, – an unofficial center of cultural life of the Ukrainian SSR of the time, where the creative intellectuals gathered. It was there that the senior research associate of the Ukrainian Research Institute of Psychology and later – the head of the department of prose of "Vitchyzna" magazine, Yevhen Sverstiuk, became good friends with the most prominent Sixtiers – Vasyl Symonenko, Ivan Svitlychny, Ivan Dziuba, Vasyl Stus, Alla Horska and others, – and joined the underground press movement.
In the late 1950s and during 1960s (up until his arrest in 1972), Yevhen Sverstiuk protested against the discrimination of Ukrainian culture in the USSR many times, which led to undesirable effects on the young researcher's career. Due to the political persecutions, he had to change his place of work four times, and in 1965 he wasn't allowed to pass his PhD of education science defence. Despite all this, in 1960s Sverstiuk penned a series of significant works, – notably, a tract "On Pogruzhalsky Trial" (1964) tract, and a book "Cathedral in Scaffolding" (1970), – and publicly spoke during numerous events, – he made his most symbolic speeches during Vasyl Stus memorial gathering (1964), and on Alla Horska's (1970) and Dmutro Zerov's (1971) funerals.
Such a vigorous public stance didn't go unnoticed by the KGB, and, on 14 January 1972, Yevhen Sverstiuk was arrested alongside many other Ukrainian Sixtiers. The investigation of his case dragged on for a year, despite charges dealing solely with the "samizdat" activities of the accused. As a result, in April 1973, for "anti-Soviet campaigning and propaganda", Sversituk was given the maximum – seven years in maximum security penal colonies and five years in exile. He served this term in Perm region camps. While imprisoned, he defended his position actively, went on hunger strikes, and was sent to solitary confinement numerous times. After the colony, in exile in Bohdaryn village in Buryat ASSR, he worked as a carpenter. When he returned to Kyiv in 1983, he continued with the same job.
In 1987, he started participating actively in social and political life, having become one of the founders of the Ukrainian Cultural Club. Starting from 1989, he edited "Nasha Vira" newspaper (lit. – "Our Faith"), and took an active part in the revival of the Ukrainian Autocephalous Orthodox Church. That same year he became the head of the Ukrainian Association of Independent Creative Intelligentsia, and between 1993 and 2010 he had been the president of the Ukrainian department of the PEN-Club. In 2011, he joined the Initiative Group of First of December, and in 2014 was one of the authors of the National Act of Freedom.
Yevhen Sverstiuk authored numerous articles and books devoted to various aspects of Ukrainian culture and history. He was awarded the Shevchenko National Prize for "Ukraine's Prodigal Sons" book in 1995. He also was awarded the UNESCO Prize for "Interethnic and Interreligious Tolerance "Corneliu Coposu" (2000), and Ukrainian State Orders.
He lived and worked in Kyiv. He died on 1 December 2014, and was buried at the Baikove cemetery.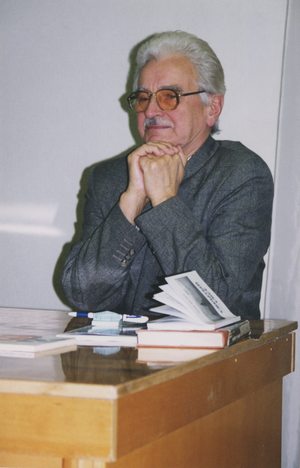 Повне інтерв'ю читайте у книзі "Дисиденти".